Malaysia World Maritime Week 2017
September 5, 2017

-

September 9, 2017

Malaysia World Maritime Week 2017 is a joint effort between the Malaysian government and the maritime industry. It is organised by the Ministry of Transport and the Marine Department, Malaysia (MARDEPT) and hosted by Malaysia Shipowners' Association (MASA) and Ikhtisas Kelautan Malaysia (IKMAL).
Malaysia World Maritime Week 2017 has gone a step further this year and is poised to deliver cutting edge insights from different sectors of the industry. Malaysia's premier maritime gathering with a week-long event which comprises of conferences, dialogues and exhibitions.
Taking place at a challenging time for the industry, it will feature public outreach activities aimed at developing a greater appreciation for Malaysia's vibrancy and diversity as a premier global hub port and leading international maritime centre.
Spearheaded by the Ministry of Transport (MOT) the event will gather more than 5,000 maritime professionals including high-level delegates from port authorities, industry leaders and maritime experts.
An exciting week of events that includes the prestigious Malaysian World Maritime Week 2017. With activity aimed at local businesses plus a spectacular line up of focused maritime events and activities.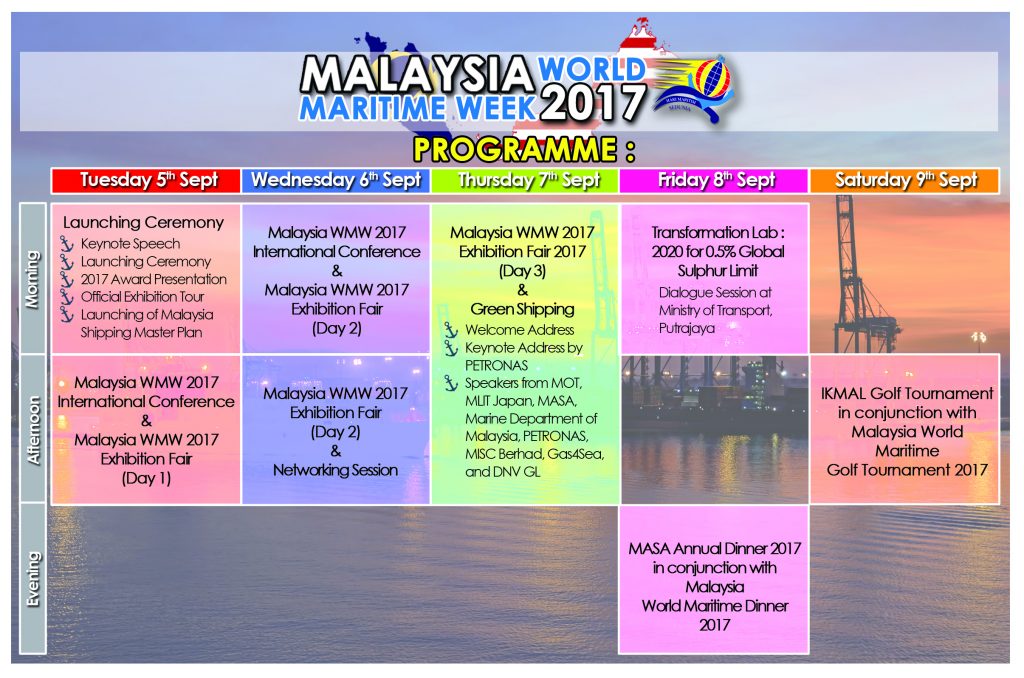 Attached are the link as follows to download the attachment.
Presentation papers and speaker profiles can be downloaded via the  link as follows.