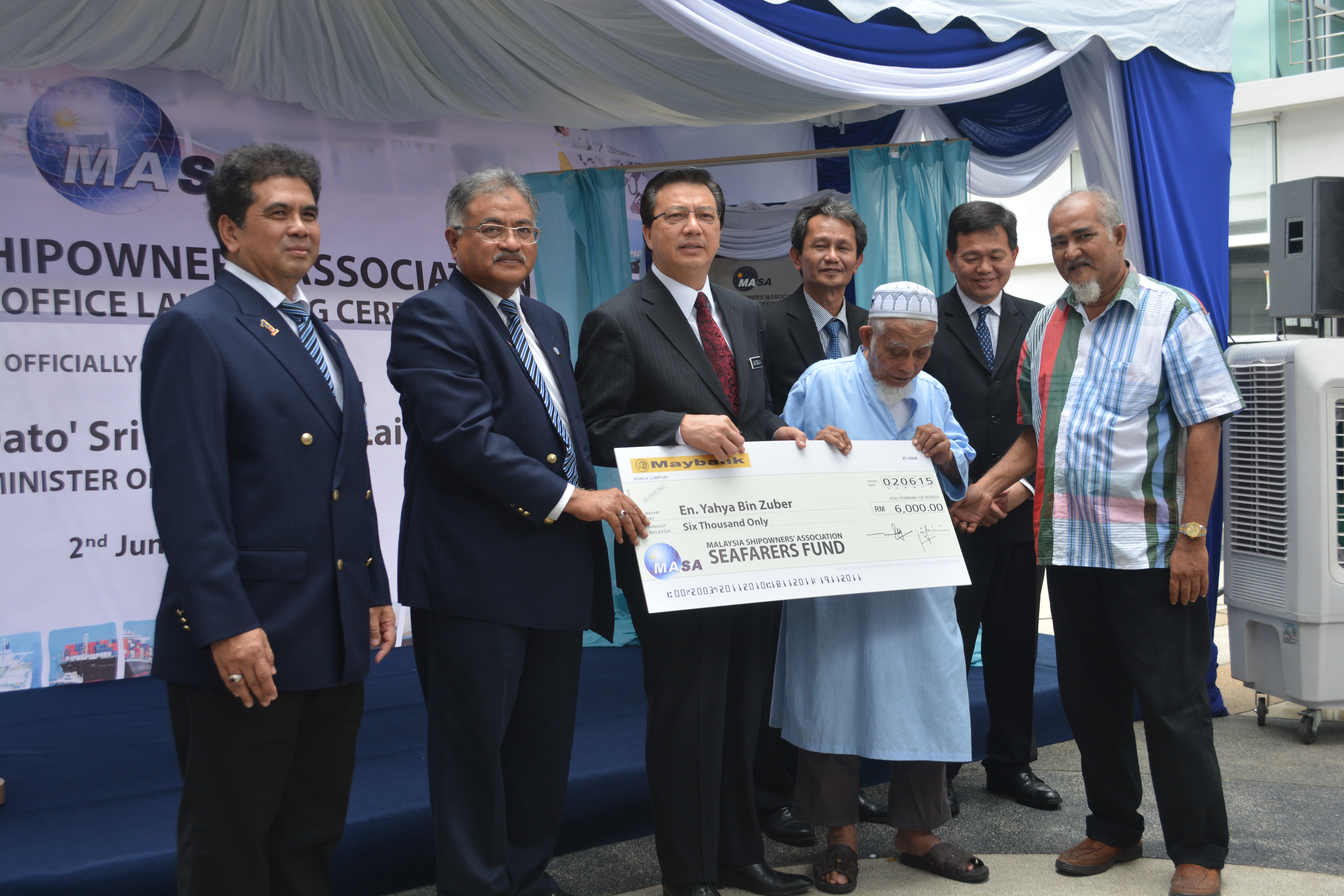 MASA Regional Activities 2015
Ministry of Transport Malaysia (MOT) recognized MASA as the representative of shipping industry. MOT have invited MASA to join as Malaysian delegates for:
1. ASEAN Maritime Transport Working Group
2. International Maritime Organization
MASA is a founding member of Federation of ASEAN Shipowners' Association (FASA), an association which is present to protect the interest of ASEAN Shipowners. MASA has been very vocal in highlighting the concerns of ASEAN Shipowners in general.
ASEAN 29th Maritime Transport Working Group (MTWG) Meeting
MASA was invited by Ministry of Transport Malaysia as Malaysian delegates representing Shipowners' to join the ASEAN MTWG meeting which was held in Sihanouk Ville & Phnom Penh, Cambodia. MASA was also invited to the meeting under the banner of FASA. Ir. Nordin Mat Yusoff, MASA Chairman was present as an EXCO Member of FASA for the meeting.
Piracy / Armed Robbery In ASEAN Waters
MASA under the banner of FASA have voiced out the concern for the rise of maritime related crimes which are hampering the Straits of Malacca and South China Sea. This is to echo the recent events where a Malaysian Registered Ship was captured by armed robbers who were trying to sell the cargo off. The rise of crimes is worrisome to the shipowners, as lives of their crew are at stake. FASA have called out for ASEAN countries to work together to fight off the rise of criminal activity in ASEAN waters to prevent the recurrence of ASEAN waters to again declared as War Risk Zone back in 2005. This would have a real and adverse impact on all vessels sailing in ASEAN waters.
Ballast Water Management Convention
With the advent of Ballast Water Management Convention that will enter into force very soon, the meeting noted FASA's statement on Ballast Water Convention, particularly on the concern from maritime industry with regard to high cost of compliance to BWM Convention. FASA urged ASEAN Member States to expedite the development of a Regional Strategy and Action Plan to implement the Ballast Water Management Convention, to allow exemptions for vessels plying exclusively within ASEAN waters from the burdensome BWM requirements. FASA's concern has been addressed in the ASEAN Transport Strategic Plan 2016-2025.
8th Cooperation Forum under the Cooperative Mechanism on Safety of Navigation and Environmental Protection in the Straits of Malacca and Singapore
MASA was invited to join as the industry representative for the 8th Cooperation Forum which is held at Resorts World Sentosa. MASA Secretary General and General Manager was present for the Forum.
ASIAN Shipowners Forum (ASF)
Federation of ASEAN Shipowners' Association (FASA) is a member of the ASIAN SHIPOWNERS FORUM. This year, ASF held their Annual General Meeting (AGM) on 18th to 20th May 2015 at Haevichi Hotel & Resort, Jeju Island, South Korea. MASA, under delegation of FASA attended the ASF AGM.
ASF Safe Navigation and Environment Committee (SNEC)
Interim Meeting was held on 23rd March 2015 at Amara Hotel, Singapore. MASA Chairman, Ir. Nordin Mat Yusoff attended the meeting. ASF Shipping Economic Review Committee (SERC) Interim Meeting was held on Shang-ri La Hotel Kuala Lumpur. Attendees present are Ir. Nordin Mat Yusoff, Mr. James Ong, YBhg. Dato' Loo Son Yong, En. Faizul Ismail and Capt. Johari.
Federation of ASEAN Shipowners' Association (FASA)
Being a focal point for shipowners' in ASEAN countries, FASA plays a role in highlighting concerns and wishes of ASEAN shipowners. FASA held its Annual General Meeting on November 23rd. The meeting was attended by MASA Honorary Treasurer, Capt. Johari Mohd Noh and MASA General Manager, Mr. Shaharuzzaman Baharum.