MASA National Bunker Conference 2016
May 26, 2016 @ 9:00 am

-

5:30 pm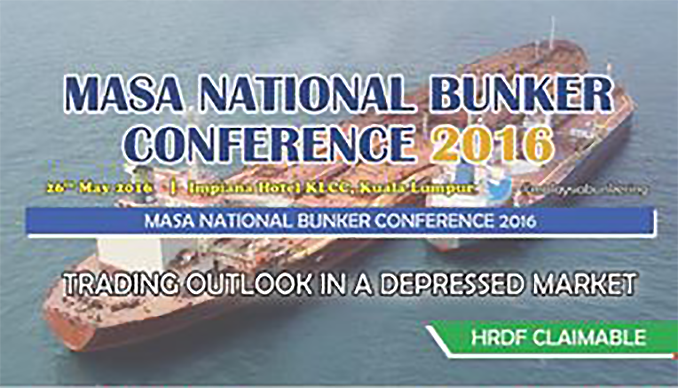 MASA Bunker Committee was established to gather all bunker players to address all issues relating to the operations and development of bunker vessels engaged in domestic waters. The committee is responsible to look into issues pertaining to local legislation and local authorities via ports, terminals, KPDNKK and any other matters with regards to bunker activities. One of the initiatives by the committee for year 2016 is to organize the
MASA National Bunker Conference 2016.
The objective of having the MASA National Bunker Forum 2016 is to bring the attention to Malaysian Bunker Operators and Government Sector that Malaysia Bunker Operators (MASA members) are fully capable to supply and handle bunkering activities domestically. It is also to promote and ensure that ships calling at local ports which requires bunker will be through Malaysian Bunker Operators.
MASA will tentatively organize the event as follows:
Date : 26th May 2016, Thursday
Time : 9.00 am – 5.30 pm
Venue. : Impiana Hotel, Kuala Lumpur
Theme : MASA National Bunker Forum 2016: Trading Outlook in a Depressed Market 2016
In view of the significance of this event, MASA is inviting you and your organization to participate and be a part of conference participants.
Attached link below is full program brochure and registration. To register, fill up the registration form and e-mail back to us.
We need your registration form as proof of confirmation. Fees are HRDF claimable.
It will be a great networking opportunity with all maritime fraternity across the region. By sponsoring in this event, we can assure you an effective corporate branding and "image-building" exercise. As a major player in the international maritime and logistics sector, the exposure of the image of your company through the medium of sponsorship will provide good value for money.
We look forward to receive your generous and continuous support for this event. The support from the maritime members and community will contribute immensely towards the success of this event. Please do not hesitate to call us directly at Office: +603 8893 1941 / 1042 Fax : +603 8893 1945 for any further enquiries.