NOTICE FOR THE 43rd ANNUAL GENERAL MEETING (AGM)
The 43rd Annual General Meeting of Malaysia Shipowners' Association (MASA) will be held on 23 September 2020 (Wednesday) at The Everly Putrajaya.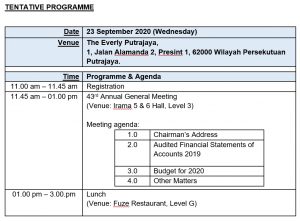 Appreciate if you could revert by submitting the name of representative(s) from your company attending the AGM in the Attachment 1 (Attendance Slip Form) by 11 September 2020 (Friday).
In cases where and when the representative(s) is/are unable to attend in person, kindly appoint a proxy in the Attachment 2 (Proxy Form) to attend on/for your behalf at the AGM by 11 September 2020 (Friday).
Members are kindly reminded that the attendance of the representative or their proxies at the AGM shall be registered with the Secretariat (to shahkiman@masa.org.my / faridah@masa.org.my).

Please do not hesitate to contact MASA Secretariat at 03-8893 1941/1942 or email at general@masa.org.my should further clarifications on the AGM is required.
Thank you and regards,
"Towards Maritime Excellence"
SHAHARUZZAMAN BAHARUM
Secretary General
By order of the Executive Committee (EXCO) Members.
Dated this day: 1 September 2020.