MASA CONTRIBUTES TO MINISTRY OF HEALTH MALAYSIA AND MALAYSIAN HIGH COMMISSION IN LONDON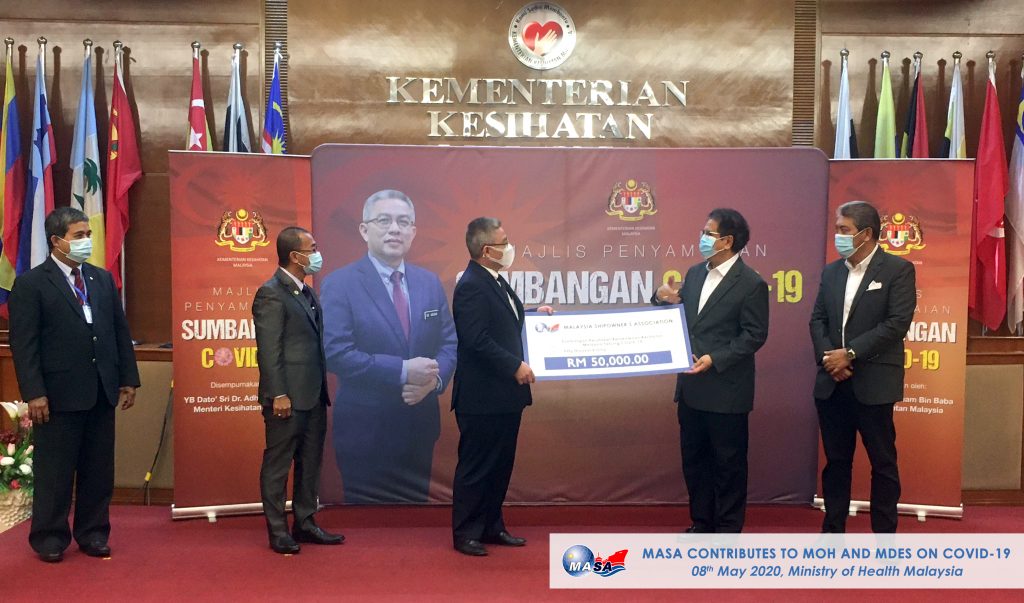 PUTRAJAYA, 8 May 2020 – Malaysia Shipowners' Association (MASA) has channelled more than RM50,000 to the government's COVID-19 Fund to show its solidarity in fighting coronavirus.
MASA chairman, Datuk Abdul Hak Md Amin said the proceeds are channelled directly to Ministry of Health ministry's COVID-19 Fund to acquire medical equipment and other health necessities such as medication and personal protective equipment for the frontliners.
"On top of the contribution to the MOH, we also contribute some amount to the Malaysia Diplomatic Equipment Stockpile to assist officers from our High Commission in London that are serving as frontliners. The government has been very supportive to the shipping industry all along, and it is our moral duty to give back in return when the government is in need in this challenging time," he said.
MASA had called for urgent contribution from its members to participate in a three-week donation rally, started on March 29, to assist the Malaysian government in the fight against the COVID-19 pandemic.
To date, donations are contributed by the following 14 companies and individual members of MASA. The contributors are from E.A. Technique (M) Berhad, MISC Maritime Services Sdn Bhd (MMS), Lunar Shipping Sdn Bhd, Hemat Marine Sdn Bhd, Marine Creation Sdn Bhd, Harbour-Link Group Berhad, Bahtera Sri Kandi Marine Sdn Bhd, Danum Shipping Sdn Bhd, Dinastia Jati Sdn Bhd, Eastport Marine Sdn Bhd, Orkim Sdn Bhd, Shin Yang Shipping Sdn Bhd, Thailine Shipping Sdn Bhd and Captain Ting Hien Leong.