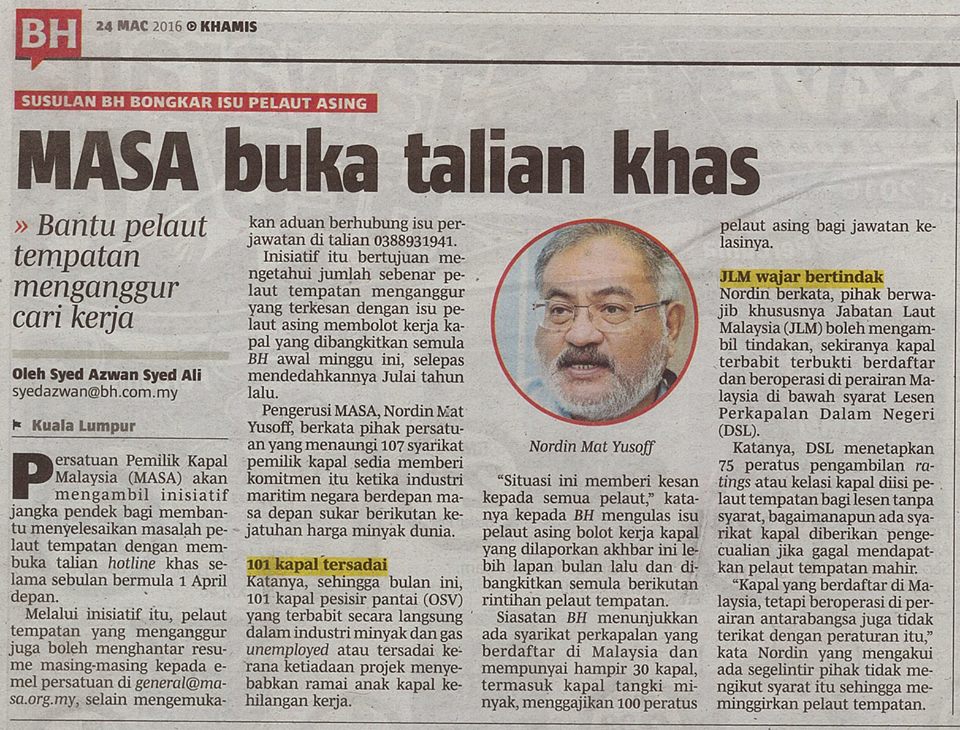 Talian Hotline Khas Untuk Pelaut yang Menganggur
Pihak MASA akan membuka talian hotline khas selama sebulan bermula 1 April 2016 sehingga 30 April 2016 dalam usaha membantu menyelesaikan masalah pengangguran di kalangan pelaut tempatan.
Pelaut tempatan yang menganggur boleh menggunakan inisiatif dari MASA ini dengan menghantar resume masing masing kepada email persatuan di masaseafarer@masa.org.my.
Adalah menjadi harapan besar kepada kami untuk menangani isu pengganguran di kalangan pelaut tempatan melalui inisiatif ini.
MASA Sekretariat
___________________________________________________
Malaysia Shipowners' Association (MASA) will be establishing a hotline service for a month beginning 1 April 2016 to 30 April 2016 in order to assist in solving the problem for unemployment among local seafarers in Malaysia.
Malaysian seafarers; local seamen who are unemployed can use this initiative by sending their curriculum vitae to email us through masaseafarer@masa.org.my.
It is our biggest hope to reduce unemployment rate among seafarers through this initiative.
MASA Secretariat